Discover more from Mid-Century Mondays
Mid-Century Mondays is a weekly newsletter celebrating mid-century modernism and nostalgia. Subscribe for curated stories, photos, and live listings.
Over 10,000 subscribers
In 1960, Edward Frank was making plans for his dream home. A bachelor and owner of Frank Brothers, a successful modern furnishing company in Southern California, Frank wasn't interested in something generic. A well-travelled man with a passion for boating, he sought to incorporate a nautical perspective to his new modern living space. 
"In the 1950s, everybody that had a modern house went as a mecca to Frank Brothers in Long Beach." -  Julius Shulman
Frank had met Arts & Architecture editor and Case Study progenitor, John Entenza, sometime in the late 1940s. Frank Brothers would go on to advertise extensively in Arts & Architecture and would even furnish a number of the early Case Study homes, including the Eames House in Pacific Palisades (Case Study House #8). Frank's vision and values aligned well with those of the Case Study program and the resulting build would come become Case Study House #25.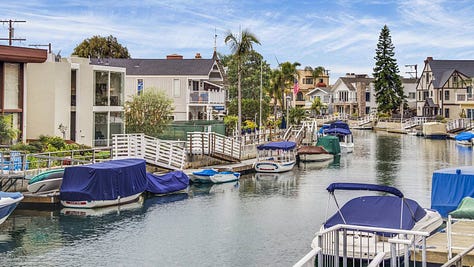 The selected home site backed up to a canal in Long Beach, located at 82 Rivo Alto Canal. As a devotee of both parties and boating, Frank envisioned a home that could accommodate entertaining while simultaneously maintaining a high level of privacy from the constant activity of the canal. He wanted to encourage his visitors to arrive to the home via boat, not by car, so he made the unusual request that the home's main entrance face the canal instead of the street. Although a bachelor, Frank also wanted the house to be capable of comfortably accommodating possible future owners he envisioned as a "typical family", thus requiring some degree of privacy and separation of public and private space beyond his current needs. 
The home, designed in 1961 and built in 1962, seems to have achieved precisely what its owner had hoped. Upon disembarking, guests would approach the expansive property via steppingstones floating over a reflective pool. Inside the home, a striking 17-foot-high front doorway would usher them into a lavish two-story interior courtyard. This courtyard offers views into the adjacent lower-level room and an upper-level bedroom study. The generously lofty interior, adorned with glass elements, creates an impression of scale, while cleverly concealing it from outside view by the house's unadorned exterior wall. Killingsworth's design masterfully balances views of the water with the privacy and tranquility needed for everyday living.
Frank was, of course, very well qualified to furnish the home. He chose icons of the time, including Barcelona lounge chairs and a coffee table by Mies van der Rohe/Knoll, a sofa by Van Keppel-Green, Eames chairs, and other pieces by Hans Wegner, Harry Bertoia, Finn Juhl, and Yngve Ekstrom.
While designing Case Study House #25, Killingsworth applied several elements to his own family home built in Rancho Los Cerritos around the same time. Notable aspects include a similar entry layout with a pair of 12 ft high double doors, water troughs, and the use of symmetry and axial vistas throughout.
Case-Study #25 was sold for a reported $3.25 million dollar price tag in November 2022. 
---
Gems For Sale This Week
19316 Palomar Pl, Tarzana, CA 91356
10410 Quito Ln, Los Angeles, CA 90077
3704 Brownson St, Sacramento, CA 95821
49 Mount Whitney Dr, San Rafael, CA 94903
1758 Comstock Ln, San Jose, CA 95124
1275 Skyline Dr, Laguna Beach, CA 92651
22 Rubicon Ct, San Rafael, CA 94903
700 Bamboo Ter, San Rafael, CA 94903
361 Nova Albion Way, San Rafael, CA 94903
3025 Buena Vista Way, Berkeley, CA 94708
6822 Victoria Ave, Dallas, TX 75209
8719 Stanwood Dr, Dallas, TX 75228
10307 Gooding Dr, Dallas, TX 75229
3450 Aldford Dr, San Diego, CA 92111